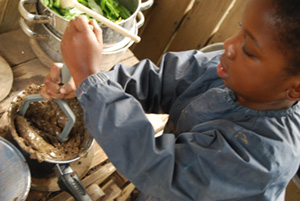 Have you ever stopped to think of the dramas taking place in your setting's outdoor space? Just like EastEnders or Downton Abbey, there is so much going on, even excluding the children's dilemmas:
The ants at the beck and call of their queen
The lone wasp ready for a fight
The gossiping sparrows
The fearful hedgehog.
Every outside classroom is alive with stories just waiting for our children to become part of the drama. Perhaps this is what the eagle teaches us about open-air learning. We talk about people being eagle eyed, having the ability to look closely and notice things that others miss. If we pause in the outdoor spaces of our contexts and look closely we will notice how they invite us and our children to become part of their stories.
Here are some ideas to help you to pause and really look at your outdoor space throughout the seasons: