What Happens when a Bear Comes to Visit?
We're Going on a Bear Hunt by Michael Rosen is a firm favourite for many settings. In this blog, independent literacy consultant Jane Bunting, explores the idea of the bear coming to visit…
Bring a bear to school
Bring a small toy bear into the setting to visit. You might do this by first finding a letter from the bear in which it apologises for frightening the family, and asks if it can come and explain. Tell the children that as the bear has never been to school before it will need their help in understanding how the classroom works and what they are doing. The children will enjoy taking the role of the expert and it will generate lots of talk as the children take the bear under their wing and explain, describe and reassure their new friend.
Send a bear home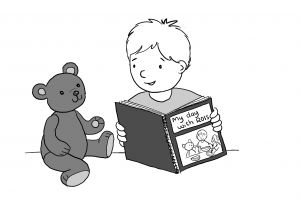 Children might go on to take the bear home for the evening or weekend. Make a special book to accompany the bear and encourage the children to record the adventure in whatever way they like through drawings, photographs and writing. Each child can then use this as a prompt for talking about the experience with the bigger group or sharing with a friend.  Ask the children to help you to publish these adding their dictated or scribed narrative to make finished photo books. These home-made books will make a lovely addition to your reading area and will enable the children to revisit this experience at any time.
These ideas are featured in our 'We're Going on a Bear Hunt' Talk & Play Story Pack by Jane Bunting.  The pack includes many activities that can be used across many different areas of an early years environment. Wooden characters are also available.