By you and for you! Practical ideas to help early years teachers and practitioners support children with transitions
In our recent Facebook giveaway, we asked for your ideas of ways that you are supporting children with their transition to a new setting, class or 'big' school. There were so many brilliant suggestions that we thought it would be helpful to collate some of them to share in this blog.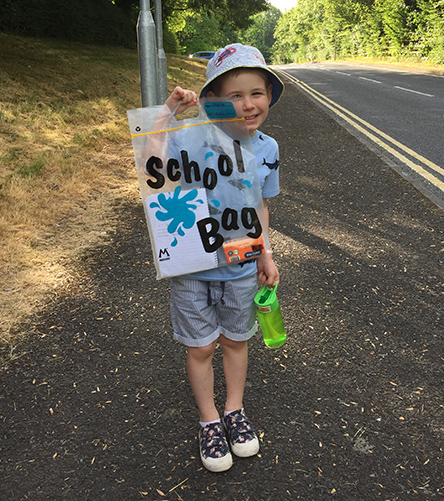 Visits – physical & virtual
My EYFS staff have done door stop surprise visits leaving a painted welcome pebble and a blue heart balloon as well as the welcome pack for parents. Last week the staff did planned doorstop visits where they gave out rainbow pictures crafted with different objects and received a picture from each child too!
We have allowed each child to visit the setting with their parents at scheduled times to allow social distancing. They have had a look around the nursery and shown where they will hang their jackets, which room they will be going into.
We're having a meet and greet virtual teddy bears picnic instead of our normal stay and play for our transition from nursery to reception.
We are doing private meet and greet sessions with each child and their family, they are coming into reception in September from nursery. The first session was last week and went down really well, it gave the children a chance to see their new environment and meet me.
We have sent video tours of the process of entry and exit of our nursery to make parents and children more at ease.
We have made a virtual tour of our setting and put it on our facebook page and on our website.
Keeping in touch
We have sent letters from the staff and EYFS pets to say hello. Will be videoing the setting once we lift the current bubble restrictions and sending out some seeds to plant. We are setting fun challenges throughout the summer.
We have made a passport for each child with photographs of staff and places in the school, classroom and playground. We have made videos for the children introducing ourselves and we will be sending cards to them to let them know how excited we are to see them all in August.
I have sent pictures of my setting for the children due back so they can see what there is to play with, remind them what my setting looks like and reassure them it will still be fun!
I made a little book about starting nursery with real pictures of the room to familiarise little ones.
Spending lots of time getting to know the children in shorter sessions, playing alongside them and really talking.
A video of the staff and classroom with our school song playing. We also ask for a picture of each child and created a video so they can see their new friends!
We have made little packs ready to be delivered to their doors to welcome them. Including some bits to get them ready for school and some nice bits to keep.
Focus on wellbeing
I gave each child a hug bear that I'd made for them.
For some children anxious about moving up into the next year we are using gardening. Weeding, cutting back and preparing raised beds to start again in September. These children will feel ownership and will grow with our planted space. We love to talk about how we are feeling and reflect while gardening.
We have been sharing group stories about school, singing familiar rhymes and changing the words to fit in with the school theme. We also discuss in group time about going to a new place or meeting new people, how does it feel.
Pupil survey – draw a picture to show us how you feel about coming back to school. Creation of transition dolls house with photos of pupils and their families on Kapla blocks to live inside.
Using the story 'While we can't hug' and 'the colour monster' as a basis for opening talk about emotions. We shall be starting with a superhero theme as we would like to encourage them to be brave.
Summer activities
We delivered a teddy to all of our children to take on lots of adventures over the summer and they can tell us all about them when they start school.
We had an 'all about me bag' in our pack so we could put in anything that we did over the summer holidays – photos, tickets, objects that could be shared with the new teacher and/or class.
Settling in
Made mini me's for them to play within the classroom so they can become familiar with their friends. Free mystery gift when they arrive in September!
We have gradual entry in September and the children are given their own 'magic playdoh' that if it changes colour then they are going to have a brilliant year at school.
I have offered children settling back in sessions to help children and parents adjust to coming back to my setting. I also provided parents with a 'Settling back in' questionnaire that asked about any changes and children's interests so I can help them transition. I also held weekly Zoom music session to keep families in touch!
Due to having no parents in the school site we are thinking of fun ways to get the children through the gate like bubbles, bike races, fancy glittery curtains anything fun to put the children at ease.
We asked parents to bring a family photo for us to display on the wall in their room.
Routines
Instructions sent on tapestry for NHS hand washing video, photos of the class and telling them where to put their things when they arrive. It will be a graded day first week back, each day getting a bit longer.
Developing independence with lunch routines and toileting, confidence to talk in a group about emotions.
We have introduced family dining so that children sit in small groups of eight with their teacher or TA and eat dinner together rather than having to form long queues and be left with dinner staff with whom they are not familiar. We are hoping to develop this so that a Yr6 will come across and have dinner with them also.
We always do a register call out like the teachers, lining up and practice getting changed for PE.
Confidence and independence
As a childminder for the children moving up to school we work on confidence and independence. We talk about the change, take walks past the school regularly to help familiarise the children, read books around starting school. Send home ideas for parents for the summer.
Zip coat challenge before we go out. Him and his sister race each other.
We make sure the children can carry a dinner tray filled with dinner, it's one of the things that they are expected to do straight away but really hard to balance, the early years head is always grateful.
For the children going up to infants we have encouraged their independence, talked about new school, and read books.
---
With thanks to everyone who entered our 'Transitions Giveaway' on Facebook and shared their inspiring ideas!