Moving forward intergenerationally: Growing together while being apart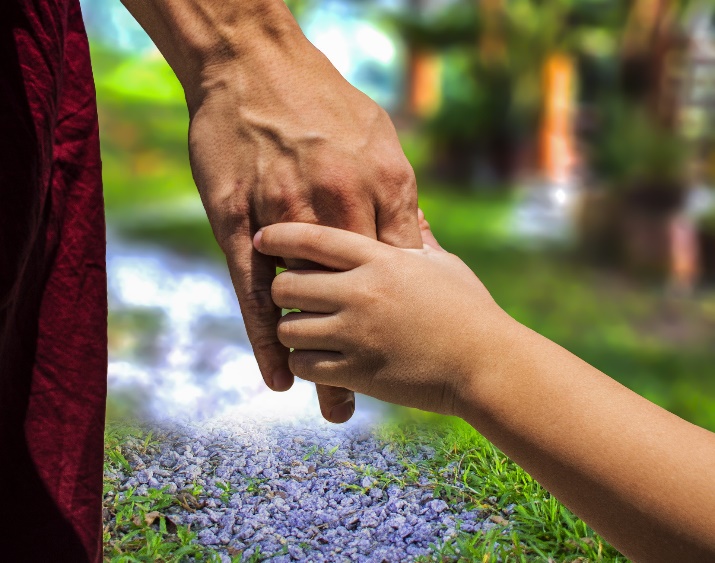 Prior to the Covid-19 pandemic there had been a real growth in the practice of intergenerational learning, with many early years providers developing beneficial partnerships with elder care settings in their community. The evidence-based benefits include improvements in children's speech and language skills, confidence, well-being and self-esteem. With results like these, it is very important that we maintain contact between our children and the older adult community during this period, and that we develop new strategies for them to communicate meaningfully with each other. In this way we will not only keep the connections that we have made, we will also continue to expand the important work of intergenerational learning and build increasingly connected communities.
Even though the children and older adults in your setting are physically apart, this does not have to stop them finding out more about each other: their likes and dislikes and what they have in common. As we make the transition to new ways of engaging post Covid-19, we can use this period in a positive way so that when we do meet face to face, it is like meeting old friends with whom we have lots of news to share.
For those of you who would like to develop intergenerational friendships, try contacting your local care home or adult care facility to discuss how you can work with them to support each other and bring generations together. If this is you, think of the non-contact activities below as ways for your children to develop relationships with the older adults.
Some of the suggestions that follow include sharing photographs and using the internet. You will need to make sure you have parental consent for the use of images, and ensure that you follow safe practice when using digital means of communication.
So, how can we help our children and their older friends to build relationships while not sharing the same space?
Here are some suggestions …
Staying in touch
Help each child to complete an 'All About Me' template that will enable the older adults to learn more about them. They could respond by sending their own information sheets to the children. Download an example template.
For those of you who have already befriended care home residents or similar, create 'Remember Me?' picture/photo books with the children and send them to the older adults.
Help the children to write letters to the older adults that include any relevant news and photographs of themselves. Everyone loves getting a letter in the post, and what could be more special than a pen pal?
Capture the children's activities by creating home-made newspapers in big print for the older adults. Involve the children in delivering them by hand or by post.
Using technology
You have probably seen lots of clips on social media of young and old staying connected through virtual visits. These are easy to replicate and can vary from chatting and saying 'hello' to longer more engaged activities. Such contact can help older adults to put a face to a name. Be aware that adults with dementia or Alzheimer's disease may need additional time to remember who the children are they are speaking to. It is a good idea to discuss this with the children beforehand to avoid any confusion.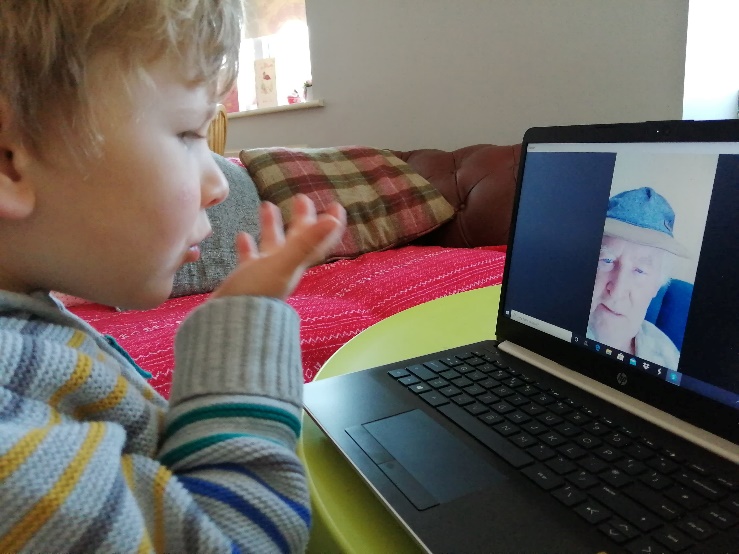 If you are using Skype or Zoom (or another online meeting tool), try a joint activity such as one of the following.
Children use props and/or masks to embellish a story read by an adult.
Listen to music, accompanying it by playing instruments, or sing well-known songs together as a virtual choir.
If you are feeling very energetic, why not exercise together using balloons!
Send video clips of the children giving messages, or create a video diary so that the older adults can watch it more than once.
"Noah loves to tell us all about his Skype sessions with George – how funny he is and how much he makes him laugh. We love to hear how Noah is still interacting with people, even when he can't visit."                                              Noah's parent
Outdoor activities
Ask the manager of the care home if it is possible for the children to come to the home's grounds. If this is allowed, think about some window activities that you could do as these will enable the children and adults to see each other. Such an activity may be as simple as participants waving to each other through the windows. Do not underestimate the pleasure that can be gained from this. Other window activities include the following.
Display signs/pictures that indicate that the adults are missed and loved.
Play noughts and crosses with the adults, using masking tape to create the grid and washable pens on each side of the pane.
If you are allowed to utilise the garden or outdoor space, you could get really creative and bring items that the children have helped to prepare. Here are some example.
Make and set up bird feeders, positioning them so that the adults can enjoy seeing some feathered visitors.
Grow flowers from seed and plant them in areas where the adults can be involved by keeping them watered and cared for. Sunflowers work well for this activity.
Think of interactive games, such as treasure hunts: the children hide things for the adults to find later, and vice versa.
Laminate photographs of the children now and as babies. The older adults can try to match these photographs if they are tied to a handrail in the setting. The adults could reverse the challenge using photographs of their own.
Create I-spy nature sheets as an incentive for the adults to come outside and spend time in the sunshine.
Painting rocks is a favourite activity for many families at the moment, so display these creations in the care home's grounds for others to see.
Create messages and pictures in chalk on the home's paths for the adults to find.
Ideas for display
Create displays that celebrate intergenerational friendship. Put these up in the care home and your setting, and share them online using agreed media providers. Here are some examples.
Paint a bare tree in your setting and ask the care home to do the same. Help the children to draw round their hands and decorate them, adding a message if they would like to. These 'leaves' can then be sent to the care home to be displayed on their Hand of Friendship Tree. The adults can respond by sending the children 'leaves' for their tree.
Children and adults can colour in templates such as rainbows, or create self-portraits, which can be sent to the relevant setting.
Send hugs to the older adults. This is a great visual reminder of the love that the children have for their older friends. Draw around each child as they lie on the floor with their arms outstretched on top of some lining paper. Ask each child to paint their face and clothes on their outline. Cut the finished pieces out and take a photograph of each child holding their 'hug' to help the residents to remember their names. Send the artwork to the home.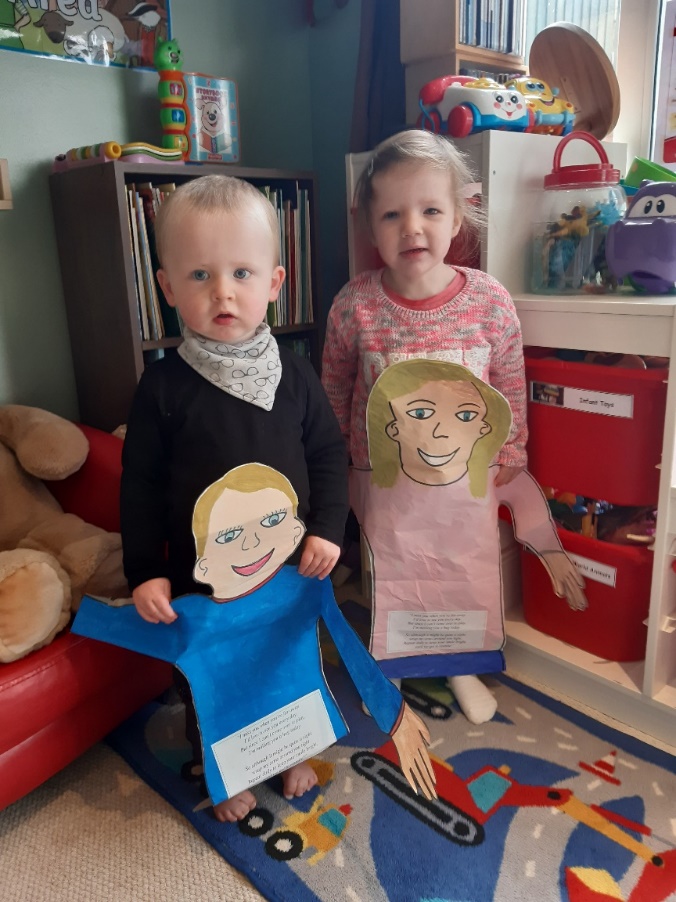 There could not be a more important time to support and celebrate intergenerational relationships. Why not do so by choosing one or more of the activities above. We would love to hear how you get on! You can add a comment at the bottom of this blog post or email any photos to: info@yellow-door.net
---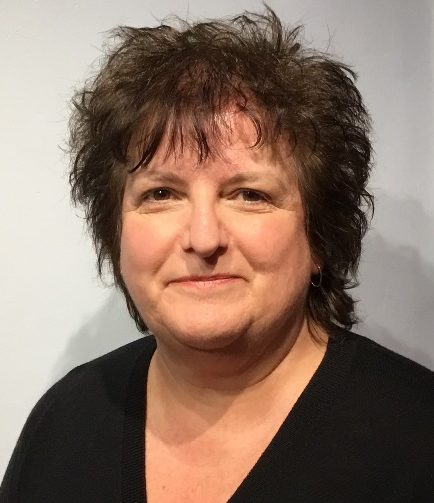 With thanks to Lorraine George for writing this blog. Lorraine has worked in early years education for over 20 years and is passionate about delivering and supporting intergenerational projects.
She has also written the practical handbook Growing Together: 50 inspiring ideas for intergenerational learning and other blogs for us:
The importance of maintaining intergenerational connections
Why is intergenerational learning so good for young and old?