Tried-and-tested inspiration from a Reception class teacher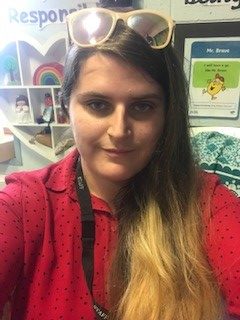 Hi, I'm Rebecca and EYFS is my passion! I love to make my own resources and find resources that promote hands-on learning as much as possible, as well as a good bargain! I have worked in EYFS most of my career so far since university, but I am currently in my 4th year as a Reception class teacher and an EYFS lead. Just over a year ago, I set up a Facebook group and Instagram page called Sparkle and Shine in EYFS to share all my ideas which is going from strength to strength. Including sensory play ideas, play set ups and general inspiration, take a look:
Sparkle and Shine in EYFS on Facebook
Sparkle and Shine in EYFS on Instagram
Here are some of my activity ideas for using Yellow Door's Number Pebbles, with pre-schoolers through to KS1: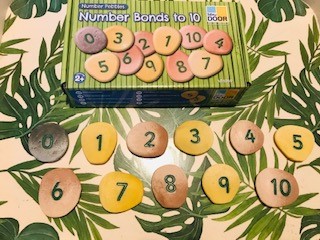 The number pebbles are great for ordering 1-10 using a 10s frame, for number recognition, to take number away and guess the missing number. They can also be used to identify the amount of objects to put on a 10s frame.

Representing number to 10 is one of my class's favourite activities and any opportunity where they practise one to one correspondence with objects is always a bonus!

You can never have too much of counting objects and the number pebbles are great for little hands and matching to the numeral – these are up to 5 and great for pre-school aged children.

Numicon is such a great maths resource and matching numbers to Numicon shapes is a great way to show understanding.

Matching Numberblocks characters to number and showing another representation of number.

Number can be found in so many ways and identifying representations of numbers and matching to quantity always needs to be kept being reinforced. This is great for nursery to key stage one, to keep practising understanding of number.

Seeing patterns of number is a key part of number in both the early years foundation stage and key stage one curriculum. The different coloured pebbles help sorting odd and even numbers easily.

The pebbles help make learning more hands on, not just with writing numbers but using them as a tactile resource for filling the missing number. This activity is also great for discussing numbers that are more or less, which is a big part of the reception early learning goals.

Making learning topical makes the activity more fun and this matching quantity to numeral activity is great for autumn and harvest.

Sometimes it is nice just to have an activity to pull out of your hat and this simple additions to 10 is great for independent learning and problem solving.

Solving number sentences to 10 (addition and subtraction) is a skill that needs lots of practice. This activity is great to get the mind thinking and goes beyond just another printed sheet and writing more number sentences down again and again!

Thank you to Rebecca Cummins for sharing her activity ideas.
More inspiration can be found on Sparkle and Shine in the EYFS Facebook and Instagram pages.