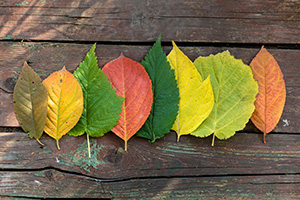 There's a familiar sense of change in the air as the autumnal mornings bring that fresh coolness and the sunlight has a feeling of maturity. September is a time of new starts – for children, their parents and practitioners. Whether it's a first step for young learners from home to nursery or school, or a change from one setting to another, these are certainly times of adjustment that require sensitivity, discernment and often inspiration!
Here are five tried-and-tested ideas to help smooth transitions within your setting taken from Wendy Usher's wonderful book Let's Talk Behaviour!
1. Offer visual choices
Young children arriving in a busy (and sometimes noisy!) setting may find it hard to make decisions when faced with several choices. Help them by welcoming them and holding out two or three leaves with activity choices indicated. Ask them what they would like to do first from the leaves offered. Once a leaf is chosen, ask the child to help you stick or hang it onto an activity tree. Then lead the child over to the activity they have chosen.
2. Prepare special welcomes
If you are aware that any child has an underlying need such as autism, it will be especially important to make them feel secure. Find out as much as possible beforehand and try to prepare activities which relate to any special interests they may have. Preparing a badge for them to wear which shows their special interest may help both the child and other practitioners.
3. Make communication passports
It's important to share things you know and find out about the children with other colleagues. A communication passport can help this by clearly conveying special things to do with each child. Create simple headings on a single sheet of paper for easy reference. These might include: I like to be called, Things I need help with, and Things that help me calm down.
4. Create a calming down basket
Have a basket ready for those times when a child needs a bit of quiet or calming down. Include things which will invite the child to touch and feel but avoid toys which are noisy. Think about adding some items with scents, such as a lavender bag.
5. Use language clearly
As we know children may have limited vocabulary, language and attention skills. When conveying important information, start by saying the child's name and keep your sentences short and to the point. Add actions and expressive body language to help support your words.
My mother-in-law calls transition times the 'seams of life'. I find this image reassuring – a reminder that the process of meshing together two previously separate pieces of fabric to form a new, shaped cloth takes both time and care. In our settings it's a useful reminder of the important role we have in helping children adapt to a new environment. There may well be difficult times to get through, and the 'seams' may take longer to form until they become strong, but hopefully the end result will be that the setting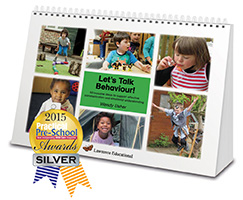 becomes both comfortable and familiar – somewhere in which each child will flourish.
Let's Talk Behaviour! by Wendy Usher (£15 Lawrence Educational ISBN 978-1-903670-93-4) is available for purchase here. The book is packed with great advice to support effective communication. A template for a communication passport is included within the book.