How to support children going back to settings after lockdown, socially and emotionally
Lockdown came upon us all suddenly! Loss of the normal routines and rhythms of life, maybe loss of jobs and income, perhaps the death of loved ones – along with the fear of catching Coronavirus – has meant we were plunged headlong into a corporate grief and trauma. We have all seen and have most likely experienced some symptoms of grief at different times throughout this period: shock, denial, anger, sadness, depression, and a level of acceptance.
Children need time to process emotions
Children will most likely have experienced a range of emotions during this time but, unlike adults, do not have the language to explain how they feel. In welcoming children back into our setting, it's important to consider how we might best support them in processing their feelings so that those feelings become manageable. It's helpful to think of it as sorting out items that have been stuffed into a cupboard. When you open the door, they all fall out in a mess! Once you start to sort through them, you can put them back into the cupboard in an order. Using the creative arts and play helps children 'sort through' their feelings and make sense of their experiences. Expressing experiences through metaphor allows children to bring to life the original experience but in a more manageable and less intrusive way.
Being kept at home for this extended time has increased stress and anxiety in children. The Guardian reported on 18th April 2020 that the children of Europe have been experiencing a 'silent trauma'. In the article, parents reported that they have seen their children regress, fight more with siblings and have fits of anger and sadness. A paediatrician in Madrid reported seeing an increase in children with insomnia, more chest and stomach pains.
Young children may not have the language to explain exactly how they feel but they will display their emotions by getting angry, crying, not wanting to do what you ask, complaining of tummy aches and headaches, feeling intensely sad and tired.
Acknowledging their emotions is really important.
'I can see you are feeling really sad/worried right now and I can see they are really big feelings'
'I'm going to stay right here for you'
'I'm here by your side'
'I'm wondering if holding this worry stone will help'
'I'm listening really carefully to what you are saying'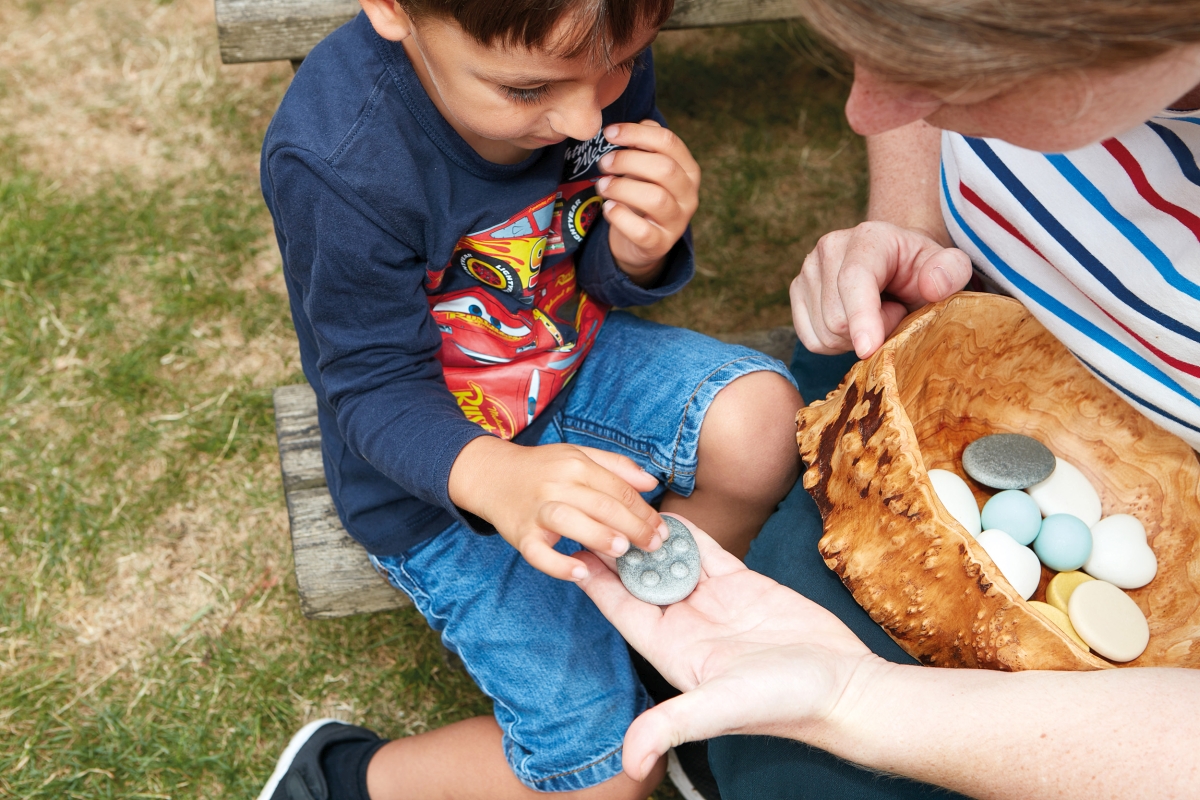 Children can express themselves through pictures, collages, figures in sand trays and in role-play areas. They also need to have opportunities to tell you about the happy things that happened during lockdown e.g. Clap for Carers, drawing rainbow pictures, Facetime with grandparents, family walks.
Children need to socialise
American Professor of Psychology Louis Cozolino, states that it is through our interaction with others that the brain develops. A child's first experience of socialisation comes from the family. Here they learn to be part of a group. They learn to trust from watching others show love, joy, anger and sadness, see disagreements and resolution to problems.
So parents, as you seek to build a loving, accepting and respectful relationship with your child you are providing the foundation on which they can develop social skills. This also includes seeing us apologise when we get things wrong and accept apologies from others.
From here they branch out to extended family, friends and school. Before lockdown they will have been learning how to move between social groups and adjust to changing environments. One of the consistent messages I have heard from the children I have been working with during this time is that they miss their friends! In helping children reintegrate back into school, we will be re-establishing their sense of belonging to a wider group and with it, the renewed development of self-confidence.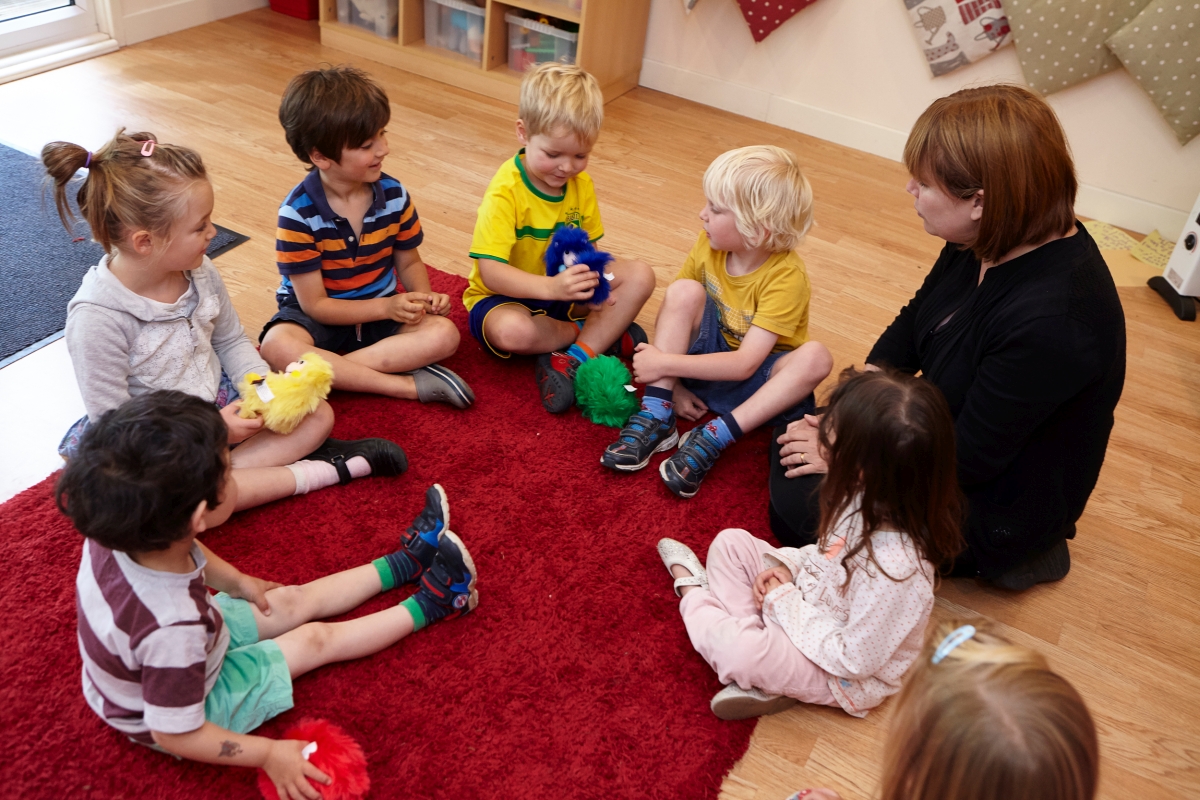 Some children may find re-integration quite straightforward and exciting; others may be more wary. They have been told they cannot go to school or see their friends because of the danger of catching Coronavirus. They have watched their parents keep the 2m distance from others, seen lines drawn on supermarket floors to keep people apart and are aware that their grandparents are old and may die if they catch it. As a result, some may be anxious about returning to school. We may well see regressive behaviour especially at transition times, like drop off and pick up. Children may be more reluctant to leave their parents and regularly ask for them during the day. Lots of reassurance and acknowledgement about how they feel will help with rebuilding their trust and confidence to mix with different adults and other children again.
Government guidelines state that in the early years the groups of children should be kept small, and separate from others, with a consistent adult caring for them. These small groups will be where they learn to socialise again. Here are some tips:
Storytelling – e.g. use a puppet to voice their feelings about being back at school after lockdown. Therapeutic Story StartUps (see reference below) help children think of story endings.
Group games – builds attachment and reading of facial expressions.
Sing lots of songs – encourages social bonding.
Outdoor play – physical exercise helps regulate emotions and children can be less inhibited in their play.
The healing power of play
As early years practitioners, we instinctively know that both social and emotional development is best done through play. However, recent research in neuroscience by Dr Theresa Kestly among others, confirms that this is true. Play literally re-wires the brain!
Play is an important tool in healing grief. According to Stroebe and Schut (1999), coping with grief is a dynamic process of working through feelings of loss along with engaging in restoration-oriented activities. They see this oscillation between the two activities as a healthy coping mechanism. As you encourage children to engage in playful activities, you will be helping children heal.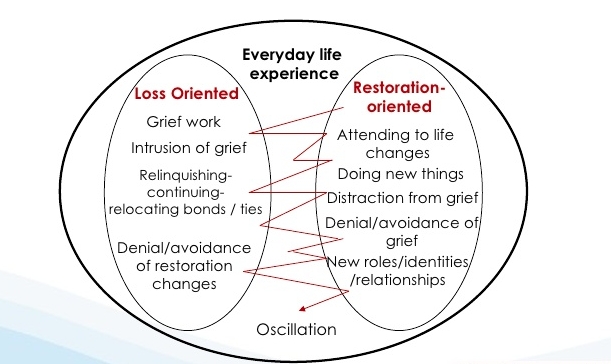 The Dual Process Grief Model.
Stroebe and Schut (1999)
Play comes in many forms:
Early sensory-motor play e.g. playdough, slime
Exploratory play e.g. using smell to guess what's in the pot
Mastery play e.g. digging holes or making dens
Symbolic play e.g. cardboard tube as a telescope
Games with rules play e.g. Uno
Rough and tumble play e.g. playground tag
Dramatic play e.g. assign roles and act them out
Sociodramatic play e.g. acting out going to the shop
Constructive play e.g. building models
Storytelling play e.g. using objects in a sand tray
All of these are important however, during this time of re-integration, I want to particularly emphasise the use of sensory play and music.
Sensory play involves touch, smell, taste, sight and hearing. This kind of play connects directly to the part of the brain storing memory and emotions. Have you ever had the experience of smelling something that instantly transports you back to a specific memory? Or tasting food that gives you a feel-good feeling?
A Sensory First Aid Box (for each small group) can help children calm when feeling anxious or distressed. It might include:
calming music which can be listened to on headphones
yo-yo
scented playdough
bubble-blowing kit
raisins/dried fruit
stress ball to squeeze
lavender oil
Music is good for the soul! It is unique in stimulating more parts of the brain than almost any other activity. Music reduces feelings of anxiety and stress and helps children regulate their emotions. Use of rhythm connects left and right brain hemispheres and calms the traumatised nervous system. Listening to music, making music and dancing to music needs to be an essential part of your day!
These last two months have certainly been a new experience for us all. Living in lockdown has given us personal insight into life stripped back to the basics. As we begin to emerge from the restrictions, we face all sorts of new challenges, especially in guiding our children. Re-establishing our settings as secure bases for them is one of our highest priorities, and at the core of this is re-building relationships.
As we take these first steps into an unfamiliar world where things will inevitably be done differently, let's keep our eye on the goal – secure and happy children, who are playful, creative and curious to learn more.
---
References:
Cozolino, L.J. (2006). The neuroscience of relationships: Attachment and the developing social brain. New York: Norton.
Theresa A. Kestly (2014) The interpersonal neurobiology of play. New York: Norton.
Therapeutic Story StartUps: Stories, Scenes and Characters to Help Children Explore Their Feelings by A. Cunningham, A. Webber and A. Amos
---
Resources that may help children talk about how they are feeling:
---